The Dining Hall of Khun Yay Archaraya Chandra Khonnokyoong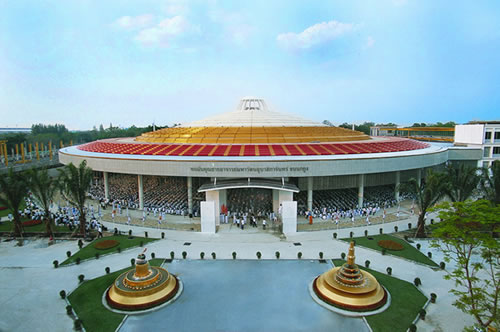 Named after the founder of the Dhammakaya Temple, the Dining Hall of Khun Yay can seat up to 6,000 monks. Everyday, lay people come to enjoy offering food and refreshments to more than 1,200 monks and novices who reside at this temple.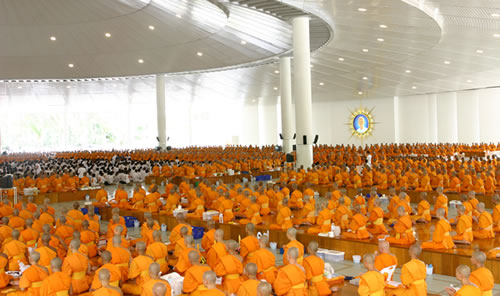 The spacious dining hall is frequently used to welcome visiting monks and novices. It also serves as a meeting venue for monks to chant together and/or hold a meeting as well as a place for lay people to make their offerings of food and other necessities appropriate for clergies such as saffron robes, medicine, toiletries, blankets, lotuses & garlands and so on. At 6.30 a.m. every day the resident monks at the temple will come here to chant the morning prayers together, have breakfast, and give blessings to the people who have come to offer sustenance At 11.00 a.m. the monks and novices gather here again for lunch which is the last meal for the ordained ones. The timing was set up during the Lord Buddha's period over 2,500 years ago for the benefit of disciplining monks since 2 meals per day are just enough to live a sustainable life to continue practicing dhamma. The monks and novices will offer blessings to the donors after lunch after which they will disperse to attend to their respective duties.
Khun Yay Archaraya Chandra Khonnokyoong
left behind a legacy of benevolence. It was her dream to build a dining hall for clergies who reside in the temple and those arriving from all directions, and to be able to provide sustenance for all lay people who come to this temple, no matter how big is the number. Today, the dream of the late Khun Yay Archaraya has come true.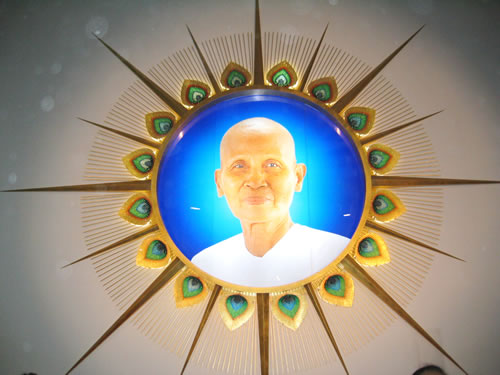 Khun Yay always taught her disciples to be humble, to share the joy of doing good in a team, and to look after the temple as if it were their own home. She stressed the importance of cleanliness as a sign of hospitality as it makes the temple welcoming and as a very fundamental virtue leading toward spiritual purification.
[gallery]