The Master Khun Yay Acharaya Chandra Khonnokyoong
Story told by Phrarajabhavanavisudh (The Most Ven. Dhammajayo Bhikkhu)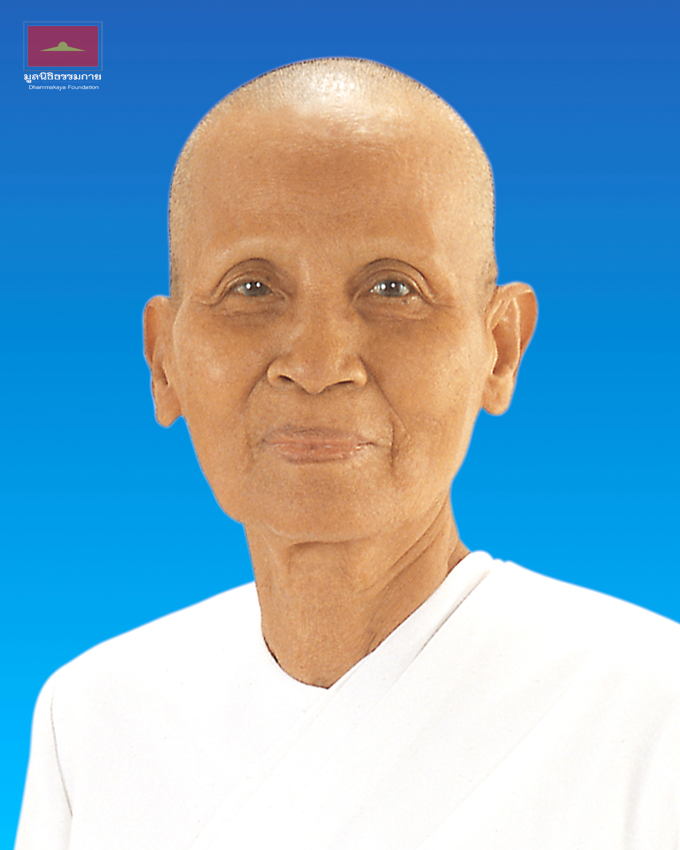 Khun Yay Acharaya Chandra Khonnokyoong was born on a Wednesday that was 5 days ahead of the full moon of the second lunar month in 1909. Khun Yay was the fifth of nine children in the family. Her father, Ploy, and mother, Pan, were well-to-do farmers in Nakhonchaisri, Nakhon Pathom Province. Since early childhood, Khun Yay was extremely diligent and hard-working that was hard to find anyone to compare. At her teenage year, she failed to witness her father's sudden decease, thus, could not beg for forgiveness before his departure. Hence, she was very determined to meet him somewhere afterlife. In 1937 Khun Yay heard of Luang Pu Wat Paknam Bhaseecharoen who was teaching disciples to visit hells and heavens by the power of meditation. She then decided for renunciation, leaving home for Wat Paknam to learn meditation. Her plan was step by step, starting from being a servant of the house that the mistress was an important supporter to the Wat. This was a chance to learn meditation with the meditation teacher from the Wat. Finally in her meditation she attained "Dhammakaya." Dhammakaya is the (inner) body of Enlightenment. With the power of Dhammakaya, she could help her father in the realm of hell. Later, she could live at Wat Paknam and enter nunhood ever since. With her nature of determination, her meditation went up to intermediate and so advanced that she studied 'Vijja Dhammakaya' (the high level of Dhammakaya Meditation) in person with Luang Pu Wat Paknam (Phramongkolthepmuni). She won the reputation for her meditation progress. It was one day that the Great Abbot Luang Pu Wat Paknam praised Khun Yay that her meditation was as profound as "Second To None." Khun Yay, as one of the students of Luang Pu Wat Paknam, was in the forefront in meditation learning. Luang Pu was the founder of Dhammakaya Meditation while Khun Yay was the one who passed on Vijja Dhammakaya (or the Knowledge from attaining the Dhammakaya) from the Great Abbot to Luang Phor Dhammajayo (Ven. Dhammajayo Bhikkhu). Luang Phor himself is determined to propagate the teachings of Buddhism together with Dhammakaya Meditation to all mankind. That is to say, Khun Yay Archaraya Chandra Khonnokyoong is the founder of Dhammakaya Temple. Khun Yay is the key and is the whole factors of progress of Dhammakaya Temple.
Second To None
Wat Pra Dhammakaya had been steadily and successfully implementing various training programs. Therefore, it was clear that more and more people from all walks of life are showing an interest in learning the Buddha's teachings ---theoretically and practically. It was also evident that this movement had shown growth and great potential. Consequently, the temple had to continuously train its personnel, to disseminate the teachings, and to simultaneously build the temples. In doing so, more and more people, including monks, novices, laymen, laywomen and workers, were joining the group.
During this period, Khun Yay's health was was declining. At eighty years, she could barely walk around the temple as she previously had. However, she could still check the tidiness around the temple by riding on her tricycle. Her diligence and strong-minded character were key to her qualifications as a virtuous builder.
The First Golden Statue of Luang Pu Wat Paknam
Luang Por Dhammajayo wanted to pay respect to Luang Pu Wat Paknam. He always believed that because of the determined intentions of Luang Pu Wat Paknam, he was able to rediscover the Dhammakaya teaching which had been lost for years. Luang Pu Wat Paknam rediscovered this precious knowledge on the full moon night of October 1917 by pledging to dedicate his life to Dhamma. Without his great effort, we all wouldn't have known or learned about the core of Buddhism, the real happiness of mankind, the root of wisdom, and the only way to reach Nirvana. For these reasons, Luang Por Dhammajayo was considering building the golden statue of Luang Pu Wat Paknam to show his gratefulness towards his teacher with a place where his disciples would be able to offer their respect. "It is a great idea to build such a statue. I have devoted my entire life to teaching all disciples and to building up the temple for the last 20 years. I never take a rest. I even suffered from malnutrition and became ill. My real dedications go to Luang Pu Wat Paknam, honoring his devoted life to Dhamma. All I have done, however, was only the spiritual part. To show my respect to him in tangible forms, I've not found my way yet. I, therefore, fully agree with Luang Por Dhammajayo to build the golden statue for Luang Pu Wat Paknam. I rejoice in the merit. I will try my best to find those highly virtuous persons to jointly build such image," said Khun Yay. Luang Por Dhammajayo, Khun Yay, and other disciples from all over the country jointly decided to show their respect and gratefulness by building the one-ton statue of Luang Pu Wat Paknam from pure gold. The ceremony was held on Makha Puja Day on February 25, 1994, and was presided over by Pra Dhammapanyabordee, the present Abbot of Wat Paknam. Within that same year, Luang Por Dhammajayo was also considering building the Great Dhammakaya Cetiya. The Cetiya would be the center for Buddhists from all over the world to practice and learn Buddhism. Khun Yay totally supported his proposal. Although she was physically weak, her heart was still as strong as ever, and she was always ready to join with her disciples. Besides the Great Cetiya, Luang Por Dhammajayo was also contemplating building two more buildings, namely the Monastery of Phra Monkolthepmuni (Sod Candasaro) -- where the golden image would be placed, and the Dhammakaya Assembly Hall (meditation hall), to accommodate more than 100,000 people during those religious days. These three projects were worked on simultaneously. At the same time, the teachings of Dhammakaya had also been gradually spreading throughout the world from Asia to Europe, North America, Australia, and Africa. Although Wat Phra Dhammakaya was established more than 30 years, the construction, the spread of Dhamma teachings, and the personnel training programs still continue Luang Por Dhammajayo and his disciples had wanted to complete the three projects as soon as possible, while their beloved Khun Yay was still alive to acquire more merit. If these constructions were done in time, she might be able to see them. Those projects would fulfill Khun Yay's intentions and duties assigned by Luang Pu Wat Paknam: to create peace through meditation all over the world. Khun Yay, who was almost 90 years old, asked one of her disciples to give her a ride to see the progress of the construction of the Great Dhammakaya Cetiya to be completed shortly. No matter how great those obstacles were, with the devotion of all the virtuous builders and having Khun Yay as the center, they were successful. Two years later, Saturday, April 22, 2000, was the first celebration date of the Great Dhammakaya Cetiya. Khun Yay, who was 91 years old, could no longer walk on her own and required the use of a wheel chair. On the celebration day, a driver showed her around the Great Cetiya throughout day and night. From her blissful eyes and a proud smile, she watched the golden Great Dhammakaya Cetiya shining with more than 300,000 Dhammakaya images. The Cetiya was surrounded by hundreds of thousands of monks and novices as well as disciples in white garments. All of them came to jointly celebrate this great achievement which was reached after many difficulties and challenges. She had finally seen the completion of the Great Cetiya before she passed away on the morning of Sunday, September 10, 2000. Khun Yay was the principle disciple of Luang Pu Wat Paknam. She was assigned to promote Dhammakaya meditation to all people throughout the world by linking such assignments to Luang Por Dhammajayo, who had the same goal. Khun Yay, whose heart was purified by the greatest virtue, had been doing innumerable great things for our society and nation. She was a perfect role model for the next generation of virtuous builders to follow. Khun Yay was the key person for all the success of Wat Phra Dhammakaya. Without Khun Yay, there wouldn't be one of the best temples of today. This was, ultimately, the great achievement of Khun Yay, who indeed was "second to none."
First Kalayanamitra
Khun Yay Chan Khonnokyoong is a Buddhist nun who had been taught meditation by Luang Pu Wat Paknam since she was 29 years old until he passed away in 1959. At that time, all of his disciples were asked to continue teaching Dhammakaya meditation. When Khun Yay Chan began to practice meditation with Luang Pu Wat Paknam, her great meditation teacher, she saw that other meditation students had been criticized for not paying close attention to their concentrating on their meditation. She did not want to be criticized herself, so she practiced very hard not to be criticize by her teacher. She focused her mind on meditation and had been an excellent example to students on how to love meditation. In Luang Pu's lifetime, there were meditation periods and Khun Yay would meditate for six uninterrupted hours. She would spend her entire life in meditation. This is why she is the expert in Dhamma (best meditator). Even Luang Pu Wat Paknam considered her to be second to none. Kalayanamitra means "good friends who always guide and support us". Having Kalayanamitra is the path of success. Having good friends who offer beneficial advice will help one to achieve this success. I am who I am today because of Khun Yay Ubasika Chan Khonnokyung, who is my first Kalayanamitra. I met her when she was 53 years old. The first time I saw her, she was an ordinary, thin, older lady, until I really looked into her eyes. They shone with decisiveness, freshness and purity which came from her virtue. I knew then she could be my meditation teacher, and asked her to accept me as one of her students. I have witnessed her ideas and her life style of cultivating only good deeds. Since 1961, I have not seen her be discouraged or give up on anything. Her intention to pursue good deeds has continued to increase. I only hear her encourage others by offering her support and shoring them up when their resolution falters. She is a genuine positive-thinking person because of her meditation experience. She always says, " It can be done. It is possible. It must be complete." Whatever she says, she does. Whatever she does, she says. Her virtues that I have often seen are her diligence, cleanliness and purity. She is clean physically, spiritually and mentally. In her place, the furniture is simple and uncluttered. Some was made from others' discards, cleaned and repaired to make serviceable for her. This reflected her choice of solitude and little need for "things." Her speech, from the first time I met her, until this day, has not changed. She will speak only Dhamma, and of doing good deeds. If I did something inappropriate, she taught what should have been done or what should be done. What she told me has helped build up my spirit to strengthen my influence and character. When close to her, I feel the peacefulness of being sheltered by a big, strong tree. My mind is at peace because I have absolute understanding----she can read my thoughts and feelings. It always fosters my concentration in meditation and helps build my wisdom. My teacher's speech is direct, honest and brief. It is the best of words. When she finishes speaking, there is no doubt, no unanswered questions. Once, there was someone who misunderstood her and scolded her for hours. She remained quiet, listening intently. I have never heard her argue, nor have I ever seen or heard her anger. Most people who came to her wanted her help. With kindness, she helped everyone, both the living and the deceased. She helped with family problems, illness, business difficulties and other life crises. She would sit and listen to the problem. Then she would tell the person to meditate also while she helped to fix the problem. After a few days, the person would come again to report that the problem was resolved. Khun Yay has now reached the venerable age of 91 and because of illness and her age, is no longer actively teaching. She continues to live as a nun in the temple and serves as an inspiration to countless people. Khun Yay was born in a time when studying was only for the males of the family in the old Thai tradition. Therefore, her accomplishments in educating herself and becoming a meditation teacher are all the more impressive and moving. She has touched and shaped countless lives, and inspired so many to lead lives of peace, inner happiness and meditation. Khun Yay Chandra Khonnokyoong, a daughter of middle class farmers Mr. Ploi and Mrs. Pun in the Nakornchaisri district of Nakorn Pathom province, Thailand was born in 1909. She is the fifth of nine children and the most restless of all. Because of it, her father had said "Of all the children, I will punish Chandra the most" Mr. Ploi had a farm of around 8 acres and Mrs. Pun had around 5 acres nearby. When Khun Yay was a child, she had to bring food to her parents in the fields. She had many friends and was beloved by all. Every evening before the sunset, she would herd the buffalo back. Sometimes in the field, boys would sing songs to attract girls' attention, but her father did not like it, and told Khun Yay not to get close to those boys.
Khun Yay's Childhood
The farmer's life had trained Khun Yay to be diligent. She had to help her parents all day long. Like other country children, she was very close to her parents. She had had no schooling, so she could not read nor write. In those times, it was not common for females to study, and most girls in the country never had the opportunity. Khun Yay was a sincere child who loved to go to the temples. She was very diligent about making sure that there was no weeds in her fields. The rice yield in her fields produced more than those of others. Everyday, the sun would rise at about 4 in the morning. Khun Yay would wake up to herd the buffalo to the fields. She loved to look at the sun rising on the horison and always thought to herself, "Sun, where do you come from? Can I ride a buffalo to the sun?" Ven. Dhammajayo Bhikkhu told of his impression: "Imagine a girl sitting on a buffalo, herding them out, even before the morning light. After the sun had risen, she saw it as the other farmer's children did, yet her thoughts were very different from the others. She thought about riding to the sun. She yearned to know where it came from and where it went. These are not typical thoughts. It is the nature of the wise, the very introspective, the same as Buddha." Her reputation of great diligence had spread throughout the village. Her male neighbors tried to compete with her, but never went to the fields as early as she always did. Finally, they give her a nick name, "Iron Shins." Because of her diligence in helping her parents in the fields, their financial status was better than most farmers. They were not in debt, even though the average farmer typically was in debt. Khun Yay saw married life of her parents. It combined both happiness and tears. Because her father was addicted to alcohol, he would buy a bottle of liquor every night. When he did not drink, he would be so kind. But whenever he drank, he would always argue with his wife. Her mother had a very successful phrase to stop him from making loud noises when he got drunk that whenever it was said, her father would stop drinking and being so loud: "Sparrow, you live in my nest." Just hearing this phrase made her father very angry and he stopped what he was doing. (One of the dominant habits of the bird 'sparrow' is it always lives in the vacant nests of other birds) Her father lived under her mother's roof which was his shame. He was afraid of losing his dignity and he feared being looked down upon by others. When he heard the phrase, he would ask the children whether it is true, or whether she had really said those words. One day, her drunk father was sleeping under the house ( a country house has a very high floor to protect from flooding). He was mumbling and snoring so loudly that it bothered the family. Her mother shouted down the same phrase "Sparrow, living in my nest, you mumbled something?" Khun Yay wanted them to stop arguing, so she said "Mom did not say that." At that moment, her father became furious with Khun Yay and cursed her to be deaf in her next 500 lives. His curse has stayed on Khun Yay's mind ever since. She believes the parents' blessings were sacred. They would come true if spoken. The curse had the same effect and would condemn her. In Thailand, it is the tradition to ask forgiveness before a person dies so that we will feel free from anything we might have done to disturb their lives, so she decided to ask forgiveness from her father before he died. Later on, her father became so ill that the family had to feed him for many months. The children took turns caring for him. On the morning of his last day, as she was feeding her father, he suddenly went into a coma. At that time she was only 12 years old and did not know what would happen. She called for her mother and left for the fields, because of her diligence in keeping the farm productive. Khun Yay worked hard in the fields unaware of the passing time. When she came home after a long day, she saw everybody crying over her father's death. Her siblings blamed her for not staying home. Everybody had already apologized and asked for his forgiveness, except her. She was very, very sad, even though she had taken very good care of him when he was ill. However, in her mind it was not enough; she had not asked for his forgiveness. His death profoundly affected Khun Yay's life. Most Thai people believe in rebirth. Since she had not had the chance to apologize to her father, she worried about her father's curse on her. She was afraid it would come true in her next 500 lives. Since then, she has wished to go to her father in the other realm where his soul went. As time passed, the overwhelming desire to ask for his forgiveness always stayed on her mind. She started looking for a meditation teacher who could teach her to go to the realm that her father lived in his next life. In 1927, she was 18 years old. She heard about Luang Pu Wat Paknam, who can teach people to attain Dhammakaya. With Dhammakaya, people can go to heaven, or to Nibbana (Nirvana). They can go to the realm where the souls of people who died still live. Even more, with Dhammakaya, they can go and talk to and touch the soul of the dead, the same as humans do. Dhammakaya can even help people in hell, and in heaven to stay in a better realm.
Meeting Khun Yay Tongsuk
Khun Yay Tongsuk knew when Khun Yay attained Dhammakaya (body of enlightenment), because she saw it in her meditation. After attaining Dhammakaya, Khun Yay continuously practiced it until her mind was very peaceful and very bright to the level that could go to Heaven and Hell. She told Khun Yay Tongsuk, "I want to see my father, but I don't know where he is." Khun Yay Tongsuk said, "It's not that hard." Right then, she taught Khun Yay to use Dhammakaya to reach her father. With Khun Yay Tongsuk guidance, Khun Yay's mind slipped out of her physical body----her body and the Dhammakaya's were the same. She was floating in Hell. Having reached there, the Hell Fire was burned out and the torture machines had stopped. There, Khun Yay saw her father, who was very thin, wearing no clothing. He lost his energy, even the ability to respect Dhammakaya. When he tried to raise his hands to show respect, they failed. Khun Yay saw her father clearly. Khun Yay Tongsuk advised her on how to help him, and Khun Yay did it. Khun Yay prayed for the good deeds of Dhammakaya to help her father. Once she had done that, Dhammakaya took him to Heaven. Khun Yay saw Heaven clearly. She saw the angels and her father's house, which was far smaller and darker than that of the other angels. While her father was living as human, he did both good and bad. The good deeds he had done were represented by the house. Because his mind was not so clear, his house was the way it was. He did the good deeds according to his willingness and that was not very much, so the house was not big. Since he also drank, that resulted in his having to live in Hell. When Khun Yay helped him leave Hell, Khun Yay Tongsuk advised her to use the good deeds of Dhammakaya to expand his house. Moreover, his body became an angel with the decorations and servants and bright house. Khun Yay Tongsuk taught him to pray "Samma Arahung." If he didn't do that, he would fail again. He promised he would not fail, because he didn't want to be in Hell again. He didn't want to be tortured by drinking the extremely hot liquid. Drinking this liquid would dissolve his body, and then he would be reborn again and again for a long time. Khun Yay had her chance to apologize to him. Her father had paid respect to Khun Yay's Dhammakaya and he accepted her apology. He told her, "I spoke in anger, but I had no intention for you to lose your hearing. If it remained in your mind and caused you distress, I accept your apology." He paid respect to Dhammakaya for helping him out of Hell.
"You have come so late."
When she attained Dhammakaya and could help her father from Hell to Heaven, she was very happy. She didn't desire anything more, because attaining Dhammakaya gave her happiness. It is the happiness that could not be found in this world. Later, Khun Yay told us of her feeling that it is the true happiness. Even when someone offered her gold as tall as her height to stop her from the meditation she was doing, she had to pass. Khun Yay thought of doing more chores to please the house owner, so she could ask to be allowed to meditate at Wat Paknam for about a month. With this thought in mind, she worked even harder to please the house owner. She had talked with Khun Yay Tongsuk and when the time came, she asked for permission. Khun Nai Leab agreed, as long as Khun Yay returned in a month. Khun Yay did not say anything, so the house owner thought she would return. At long last, Khun Yay Tongsuk brought her to Wat Paknam. That night, Khun Yay dreamed she was standing on the side of a very wide river. There was a boat bringing her to the other side. There, she saw a big, beautiful Bhodi tree which offered nice shade. Once she reached the other side, she went to sit under the tree's shade. It felt very peaceful and then she awoke. The following afternoon, a Thursday, she met with Luang Pu Wat Paknam for the first time. Luang Pu (a pronoun of the Thai senior Buddhist monk called himself and was called by others) was teaching in the Hall, which was close to the kitchen. When Khun Yay Tongsuk introduced Khun Yay to him, he looked up and when he saw Khun Yay's face, he said, "You have come so late." Luang Pu said that because he had been waiting for the advanced meditators team. He sent her directly to the very advanced Dhammakaya meditation group. Joining this Dhammakaya meditation group during that time was not easy. There were tests from the senior meditators with questions that a normal human could not answer. All the questions were beyond the ability of human's knowledge. Only the ones attaining Dhammakaya would be able to answer. In Khun Yay's case, she did not have to pass the test. Luang Pu just let her in. However, she got sick in the first week after coming to Wat Paknam. While sick, the Dhamma experience was lost to her and she was left with only her desire. Even this situation couldn't shake her peaceful mind. She believed Dhammakaya was still with her, it was just her body that was weak. It left her mind unclear, unable to see Dhammakaya. During this time, however,her mind was in the peaceful place as always. Now, her life changed, her body was weak and her Dhammakaya was altered. However, in the Wat Paknam, she received Loung Por's kindness, and her Dhammakaya was recovered. She told us later that she was confused and could feel Dhammakaya fading. Luang Pu sensed this, and he said, "Chandra, you keep your mind at the center; always keep your mind at the center." "Yes", she answered and did it. She said, "It's in my body, it is just that my body is sick and confused." Luang Pu asked Khun Yay later, "Is your mind at a standstill?" When she was asked that, she was afraid but answered "yes" and immediately, from confusion to clarity, her mind was brightening. It was at peace and could see clearly. Luang Pu continued, "See anything?" "I see, clearly." Khun Yay was afraid of his questions. When he walked up the stairs, the voice came from another room. The wall had a hole in it for him to order across the room. Only faces were seen through it. Although entering the very advanced Dhammakaya meditation group was not as hard for Khun Yay as for others, living at Wat Paknam was not easy. Since Khun Yay was the newcomer, she not only had to adjust to the new place, but also to the people there. Her life was very hard. Everything given to her was used, old, and torn. She happily cleaned them and used them, thinking only of their purpose. The bed's leg was broken, and it was not usable any longer. It also stank and had mites living in it. She happily took it, thinking that she wanted to use this bed to rest. Rest would refresh her mind and then she could use that power to meditate. She did not have any servants, money, or jewelry. She had only her positive thinking, her two hands, and her mind. She was not a carpenter, but when she had to fix the bed, she did it with perfection. She cleaned her things so they looked new. Even though the bed was cleaned, some of the mites were still living in the bed. At night, they would bite Khun Yay. Her sleep was restless all night long. People who do not have a good night's sleep can be very irritable. If someone says or does something improper, there could be some violence. Khun Yay was different. She had a small jar, like a crystal cup, next to her bed with a white cloth to cover it. When the mites bit her, she put the mites in the jar, and covered it. In the morning, she let them go outside, and she did this until her bed was clear of the mites. The senior meditators liked to see this. It became a club of who wanted to see the cleanliness, eventhough it was not beautiful. The cleanliness emanated peace---like the flowers in the garden, without a sign "You are welcome to look." They still drew people to get close to see and smell them. Khun Yay's old bed was the same. It was as if the cleanliness from her mind moved to her hands, and to her bed, and then to the viewers who looked at her bed. Her bed was the center of the club for those who wanted to sweep and touch it. The senior meditators would not let her help with the food. Because she was thin, had long hair and deep-set eyes, people seeing her thought she was sick with tuberculosis (a prevalent epidemic at that time) and were afraid of contracting it. When it was mealtime, The cook unwillingly gave Khun Yay the food. She had to experience this every day. She taught herself as if she were both teacher and student. She was there to meditate. She left the house to study Dhammakaya meditation. Every meal was for Luang Pu Wat Paknam and everybody who willingly gave the meals to him. Luang Pu was kind enough to let her and the others eat. It was normal for those who cook to always be very tired. They had to wake up in the morning and set everything up. They had to stand in front of the heat and divide everything up evenly. It was not her business to pay attention to the action of the cooks. Her duty was to eat to keep her healthy. When done, she would use that power to meditate and to study the advanced level of Dhammakaya meditation. While others thought that Khun Yay was ill from tuberculosis, Khun Yay thought that others' thinking about her was good, so she could eat by herself and could have more privacy. She didn't have to deal with anybody else. While eating, she simultaneously put her mind on the peaceful spot (at the center of her body). While washing the dishes, she also meditated and brought the brightness from meditation to clean her mind. This experience showed her desire to study Dhammakaya meditation, disregarding any obstacles.
Becoming a Nun
Through Deepening Inner Experiences, Khun Yay Becomes a Nun. After Khun Yay was well, Luang Pu started to ask more questions about Khun Yay's meditation experiences. Khun Yay was very afraid, which she had never felt before. She told us the first day she went to the high advanced Dhammakaya meditation group and was tested by Luang Pu Wat Paknam that she wanted to run out right then. The first question of Luang Pu Wat Paknam was: "Chandra, When I walked pass the temple, I saw a pigeon on the roof. It looked back and then looked forward. Why did it do that?" Khun Yay told us she was severely shaking and her heart was beating so quickly. She was afraid she might answer too slowly. She tried to stop her mind at the center of her body. When she saw the whole story via her meditation, she answered: "It looked back to see the direction it came, so it could remember the way. It looked forward to see the destination it was going to find its food." Luang Pu Wat Paknam moved from the easy questions to harder ones. The next day he asked: "Chandra, Luang Por came from the dinning room, seeing a man with a disable leg. I need you to check if his dreaming body had a disabled leg too." Khun Yay found the answer for him. If the answer were right, he would say, "Yes, that's it." But if it was wrong, he would just keep quiet. He asked these questions until it was extremely hard; such as asking about the other religion's beliefs, which she would never know because it was beyond her knowledge, but she answered appropriately. Luang Pu Wat Paknam liked to ask Khun Yay questions. Once he asked, "When you go to the dining room, is your mind in the center of your body?" Khun Yay would have to keep her mind there all day long, even at night. Her feeling was getting deeper and deeper. Until she sat on Khad-Ru bed (the state reached when the meditators' body doesn't hear or feel anything surrounding it; where one's mind goes down deep to inner peace already and where the meditator won't hear any sounds). The Khad-Ru bed is like a stage where the monks sit during the teaching. When Khun Yay meditated at night, she had a mosquito net covering her, and its size was enough for Khun Yay to sit with a straight back during meditation. Her bed was just small enough for her body. It is the reason why Khun Yay meditates with her back so straight. If she lost her concentration, her body would slightly lean toward the mosquito net. The mosquito would bite her immediately. She controlled herself to sit up straight. "Khad-Ru" is the state when the mind comes to a complete standstill 100%. It would move from the physical body to the inner bodies. When the time was up, the mind was pulled back. Khad-Ru would enhance the mind to be clearer, brighter and more powerful. The mind was enlarged so that the meditator would know more. At night, some of the senior meditators would bring in the pillows. Luang Pu Wat Paknam had the big mosquito net set up for every meditator to sit under. Some slept, while some stayed awake. Some received the knowledge, some did not. Khun Yay was different. She was so focused and became an expert. She saw some of the seniors ask Luang Pu to visit their homes, or to go to the ceremony back home. Only her he would not allow to leave. When she wanted to go to the town, because she was in the high advanced Dhammakaya meditation group for so long, she went to ask Luang Pu's permission, "Luang Por, I want to go downtown." "Why do you want to go there?" "I want to get the dessert", Khun Yay said. "Ok, I'll bring you some." The next day, that dessert came to her. Days later, she said, "I want to have durians." (Durian is a tropical fruit and the most popular among Thai people) This time, Luang Pu said, "Visualizing durians are in your stomach. When you want to eat, just meditate and think about it." Khun Yay truly missed going out, but amazingly, when she visualized the durians at the center of her body, people brought durians to the temple the next day. Visualizing the things you want at the center of the body is the successful source---success happens. The success is in the center of the body. Visualize what you want here. Studying more and more about Dhammakaya meditation, Khun Yay had not wanted to go anywhere. The world outside was not as interesting as the inner world. She wanted to know about the inner world more and more. She did this for a long time, moving from the beginner status to the expert status, to the head of "Khad-Ru." After almost staying a month at Wat Paknam, it was time for her to go back to be a butler for Khun Nai Leab. As her meditation experience grew stronger, she did not want to go back, so she talked to Khun Yay Tongsuk and said, "I don't want to go back." "I will not go back either, Skinny. We'd better take the veil to become nuns." Khun Yay Tongsuk called Khun Yay "Skinny" because Khun Yay was so very thin. "How are we going to become nuns?" "Rent the veil." They shaved their heads and became nuns that night. Luang Pu liked it for there were not many meditation students who had excellent inner experiences. He did not want them to go back. However, he was pleased because his leading meditation students were doing their jobs studying inner experience. The next day, the house owner came to pick her up but she only saw the two nuns sitting in front of Luang Pu. The long hair was gone. Their faces and skin were very radiant from the light of inner experience (Dhammakaya). The owner was speechless, because of her respect to Luang Pu. She just looked in their face. When Luang Pu left, the owner asked Khun Yay, "Why did you become a nun?" Khun Yay did not answer. She silently istened in peace. The relationship between Khun Nai Leab and Khun Yay was shown clearly when Luang Por Dhammajayo told us: "About 10 or 20 years ago, I don't remember exactly, when Khun Nai Leab was 85 years old I saw her talking to Khun Yay. Whenever she met Khun Yay, she would say "Chandra, you said you'd come back, then you never did." Later when Mrs. Leab was close to dying, Khun Yay was invited to the house. When she saw Khun Yay, she said again, "Chandra, you said you'd come back, then you never did." In the end, Mrs. Leab donated some of her money to Khun Yay. Khun Yay had talked to Luang Por Dhammajayo of this matter. She had not decided at first she would want to be a butler all her life. The reason she decided at first was that she wanted to study Dhammakaya meditation with Luang Pu Wat Paknam even with the hard life she had endured. She had not wanted this career in the first place. Back home in the country, she had everything she wanted or needed and more. Thus, she did not go back to being a butler in Bangkok. She continued studying Dhammakaya meditation at Wat Paknam. The place to study Dhammakaya meditation in Wat Paknam was called "High level of Dhammakaya meditation study." It was a big building having a roof and two sides. In the middle of that, there is a small wall separating people. When sitting, the other side could not be seen. This wall would separate the monks and nuns, so they would not know each other. Luang Pu Wat Paknam would sit with the monks. At that time, there are about 30 monks total. Nuns and women who observed 8 precepts all together were about 30 also. On this wall, there was a hole for Luang Pu to order or through which to ask questions of his meditation students. Only his face could be seen.
The Meditation Workshop
They were divided into 2 groups. Each group meditated twice a day for 6 hours during the day and 6 hours at night. From 6pm to 12am, from 12am to 6am, from 6 am to 12pm, and from 12pm to 6pm. Luang Pu picked Khun Yay to lead the evening group. He knew that Khun Yay loved meditating, and that she was strong, though her physical appearance indicated otherwise. The evening group started at 11:30pm to 6am and again from 11:30am to 6pm. Luang Por Dhammajayo said about this: "Think about it, Khun Yay did not know the writing. She could not read, but her followers (meditators) in the same group could. Yet she could find the right answer for Luang Pu Wat Paknam, until he was so pleased with her that he appointed her to be in charge of the group. It was because she took it seriously. She did not complain, did not say anything, even when somebody complained about her. Only Luang Pu did not complain about her and that pleased her. She would not give Luang Pu reason to blame her; the others' comments she did not care about. She did everything correctly so that Luang Pu would not be disappointed nor blame her for anything wrong. When she had studied the high level of Dhammakaya meditation for 2 years, World War II started. Luang Pu Wat Paknam used his Dhammakaya meditation and his meditation students to help the country and the humans to stop the war and the killings. He helped Thailand to escape from the dangers. He ordered the Dhammakaya meditation students who firmly attained Dhammakaya to help. Some threw the bombs away. Some had the enemy see the important place as forest, and the sea as a town. While meditating, Luang Pu would check the schedule of the bombings. If someone else answered, the other students would just listen but not act, but if Khun Yay answered, they( the other people who lived in Wat Paknam) would turn the lights off at that time so that the pilot wouldn't see their buildings. This was because they believed in her ability to see the truth. Luang Pu Wat Paknam ordered his students to sweep the bombs away. If someone failed to do so, he would call "Kee-Tai." He called this to everyone. "Kee-Tai" is a type of fuel. To light the fire, you had to knock down the ashes until reaching the part that was full of oil, and then light the fire. When the fire started to get small, you had to knock down the ashes again. For the students to be referred to as"Kee-Tai, meant that without the teacher's push, they would let their minds become distracted. Sometimes thinking of the Dhammakaya, sometimes unable to. Some went sight-seeing. When called they would come back. Khun Yay was not that like that at all. She was inside all the time because she was afraid that Luang Pu would blame her. For the Dhammakaya meditation leader, the blame was like going to war and ending in a draw with no win, no loss. One day, Luang Pu ordered "Chandra, you go sweep the bomb." Luang Pu would look into every sweeping. When Khun Yay received the order, her mind became one with her Dhammakaya, and not excited. However many the bombs, she would keep sweeping them patiently. Only one thing in her mind, not to give Luang Pu reason to call her "Kee-Tai." During World War II, there were many bombs dropped on Bangkok. Some were very afraid and ran back to their house. That was why Luang Pu locked the doors at the High level of Dhammakaya meditation study room. Khun Yay was not afraid of this. When it was time, she would meditate without any problem. Meditating at night required more from Khun Yay. If her mind and body were not as strong as metal or diamond, she would not last long, Khun Yay said with a smile. She studied high advanced level of Dhammakaya meditation without a worry about the war. Even living in that period was hard. The clothing worn was old and torn. She did not have any more to change into. The food that they used to have then was not sufficient. Moreover, there was a massive flood all over Thailand. Khun Yay still kept on meditating and got through that difficult time. Even Khun Yay's appearance looked like she was not strong, but when she was meditating, her mind would glide easily to the inner experience. Khun Yay's body was like the container of all the powerful Dhammakayas . For the rest of time, Khun Yay was very happy with meditating. She never thought of anything else, except how to go to the highest level of Dhamma. When she was still strong, she would tell her close followers: "Who wants to go to Nirvana (Nibbana), go first. Yay will not go yet. Yay wants to eliminate all the evil (in one's mind) first." She said this and then continued to improve her meditation to go deeper and deeper. During the time of Luang Pu Wat Paknam, he and his students would meditate around the clock. Whether in peacetime or wartime (World War II), the advanced meditation students meditated in 6-hour shifts day and night.
During World War II
However, Khun Yay would not quit at the end of her 6-hour shift. Demonstrating her dedication, she would wait for another half-hour and listen to the Dhamma question and answer sessions held by Luang Pu Wat Paknam and the head of the next shift. This elite meditation group of students took turns round the clock in meditation sessions using their inner stillness and tranquility to fight evils. Despite Khun Yay's skinny and fragile appearance, on the inside existed a powerful mind and inner eyes full of strength and determination. During World War II, the Allied Forces heavily bombarded Bangkok. Yet, Khun Yay was neither daunted by the fear caused by the bombings nor the hardships caused by the shortage of supplies. Khun Yay never complained; she just sustained her life practice of ultimate inner peace and enlightenment. Loyal to Luang Pu, Khun Yay followed his every instruction. Luang Pu told his advanced meditation students that "Daughter Chan is second to no one." This honor brought Khun Yay true joy and was her greatest delight. Luang Pu had never bestowed this compliment to anyone else. Khun Yay's calm disposition gave her an edge over the other meditation students. Her determination and perseverance made her the best among them. Luang Por Dhammajayo Bhikku kindly told us a story about an event which demonstrated Khun Yay's faultless serenity. One day Luang Pu Wat Paknam received a very beautiful peacock-feathered fan. He held a raffle and asked the hundreds of meditation students to draw a ticket in order to win this fan. Instead of being excited about this event, Khun Yay calmly continued to meditate. She kept her mind at the center of her body and simply made a wish for the fan. Being the last to draw the raffle ticket, Khun Yay could not even read, although she had picked the winning ticket. Imagine how miraculous this was for Khun Yay to have won the fan. Everyone in the room broke into laughter since, coincidentally, Khun Yay's last name means peacock feather. Yet, the fan did not remain with her for long. Only one day following the drawing, Khun Yay Thong Sook, her first meditation teacher, asked for the fan to offer it to the monks. Constantly being generous, Khun Yay gave the fan away. However, Khun Yay did not always excel at everything. One day Luang Pu Wat Paknam asked her why the Salid fish (a kind of river fish in Thailand) tasted so good. Khun Yay was stunned by Luang Pu's question, since he usually only asked about Dhamma. Typically, she never thought about the taste of any food. She would just eat at mealtime when she was hungry. Luang Pu rarely laughed, but on that day he did so heartily.
The Order of the Great Master
In 1954, Luang Pu called a meeting among his students from both inside and outside the temple to speak of his passing in five years. He ordered his students to make the Dhammakaya meditation known all over the world which would be beneficial for all. Five years later, his prophecy came true. Luang Pu came down with a serious illness and became bedridden, surrounded by his student monks. Unfortunately, Khun Yay was unable to be by his bedside. Luang Pu was very strict when it came to his disciplines. Nuns were not able to stay close to the monks. Yet, Luang Pu instructed Khun Yay to carry on the teaching of the Dhammakaya meditation. Luang Pu passed away on February 3, 1959 at three o'clock in the afternoon. Without Luang Pu as their moral leader, many of the students went their separate ways. Some stayed in the temple area, while others joined other temples. A few returned to living as ordinary people. Khun Yay chose to stay with her first meditation teacher and to care for Khun Yay Thong Sook in a small three-story house in Wat Paknam. Khun Yay Thong Sook was diagnosed in the final stages of uterine cancer. Her symptoms were severe, bodily fluids that oozed out of her body had an unpleasant odor and kept everyone, except Khun Yay, away from her. Khun Yay attended to every need. Khun Yay was grateful to her first meditation teacher who had taught her how to reach inner peace (attaining Dhammakaya within). When feeling healthy, Khun Yay Thong Sook had traveled tirelessly around the country spreading Dhammakaya meditation and had many disciples. Returning home, exhausted, Khun Yay Thong Sook knew she would always get the best of care from Khun Yay. Being terminally ill, Khun Yay Thong Sook often mindlessly said many unpleasant things due to her fever. Khun Yay just listened with a peaceful mind and never took offense. Administering to her ailing meditation teacher, Khun Yay treated her gently and made her feel as comfortable as possible. She would sprinkle Thai perfume on to the teacher and help make Khun Yay Thong Sook presentable to receive her students. On the last day of Khun Yay Thong Sook's life, alone with Khun Yay, she rested her head on Khun Yay's lap. Khun Yay Thong Sook was especially calm that day and as she looked up at Khun Yay, she simply said "Go with Dhammakaya," and was gone. Beloved Khun Yay Thong Sook received the best and most beautiful funeral from her students. Khun Yay showed her deepest gratitude to her first meditation teacher by hosting and inviting all Khun Yay Thong Sook's disciples to arrange the finest funeral Khun Yay could prepare. At the funeral, Khun Yay had some free time to ponder about Luang Pu Wat Paknam's last order. She had promised herself she would find that special someone who would carry on Luang Pu Wat Paknam's legacy and spread the Dhammakaya teachings to all the world. Her wish came true one day when she me with a young student. This young man had made excellent progress in meditation practice. She told herself that this man must be the one.
Teaching Dhamma & Meditation
This young man was Luang Por Dhammajayo, who at the time, was a teenager studying at one of the best known high schools in Bangkok, Suankularb Vidhayalai School. Even at a young age, he stood out from the crowd. He was always asking himself questions such as why human beings were born and what is the purpose of life. In fact, he started seeking answers to these questions by the time he was thirteen years old. He spent most of his time reading books and attending meditation sessions at the temples. When he was sixteen, he read an article about Khun Yay and Khun Yay Thong Sook in a journal. He was so intrigued by the story, he thought Khun Yay might hold the keys to his questions that were locked up in his mind. Although he lived close to the temple, he had never had the chance to visit Khun Yay. At the age of eighteen, he had the opportunity. According to Luang Por Dhammajayo's expectations, the temple would be a clean and tranquil place that was ideal for meditation. Unfortunately, Wat Paknam was surrounded by buildings and houses with lots of people bustling around. Disappointed, he gave up the search for Khun Yay. While he was leaving the temple, he had a brief encounter with Khun Yay. They both stared at each other but no word was said since he did not know who she was. Having given up the idea of finding Khun Yay, Luang Por Dhammajayo chose not to return to the temple and directed all his time and attention to his studies at the university. Yet, these two questions still haunted him and made him more curious. In October 1963, during school break, he returned to Wat Paknam and asked around for "Mother teacher Chandra." No one knew Khun Yay by that name. An elderly monk invited him to practice meditation with another monk who taught Dhammakaya meditation technique rediscovered by Luang Pu Wat Paknam. Although he could not understand a thing the monk said, he did feel great inside. Two weeks later, armed with a clear intention and a strong resolve, he sought Khun Yay and this time met her. She was a thin nun, with a warm smile and bright eyes full of determination. Khun Yay told him to come back the next day. That was enough to make him ecstatic. Early, the next morning, when Luang Por Dhammajayo met with Khun Yay in the small house that once belonged to Khun Yay Thong Sook, she mysteriously told him she had been expecting him for a long time. He did not think too much about this at the time but just followed what Khun Yay taught him and focused on meditation. As time went by, those two original questions that had led him to her no longer seemed important. Luang Por Dhammajayo quickly became Khun Yay's favorite meditation student. She always took time to explain things to him. He was the first to call her, "Khun Yay" (or grand mom in Thai), which pleased her. Once he asked Khun Yay why would she chew Mak (a palm date which Thai people in the old days chewed to strengthen teeth but made them black). She soon quit this habit after his comment. Along with her favorite student, Luang Por Dhammajayo and other meditation students, the number of students steadily increased and outgrew Wat Paknam. At the age of sixty, Khun Yay founded a new temple in the Patumthani province called Wat Phra Dhammakaya. Currently, Khun Yay's favorite student, Luang Por Dhammajayo is the Abbot at Wat Phra Dhammakaya.
The Formula for Successful Meditation
In the beginning of Luang Por Dhammajayo's studies, Khun Yay often cheered him up by telling him the formula for successful meditation: Follow: to follow her suggestions. Keep doing: to keep meditating every day, and in every manner. "Follow and keep doing" is the formula for success on the path of enlightenment. Other than teaching meditation to those who were interested, Khun Yay would also help people with their problems through Advanced Dhammakaya meditation. Even though some often challenged her, Khun Yay, always a merciful person, would still aid them. Once Luang Por Dhammajayo told her story : "Khun Yay's visits to Hell and Heaven seemed easy to her, as if she had taken only a couple of paces. Whenever anyone asked her about a relative who passed away, she would meditate for a brief moment and answer frankly about his extistence afterlife. She would reply, 'Your relative with this name, while being a human, had done this deed. Now he is in Hell and suffers the consequence of his action.' Then Khun Yay would visit Hell, bringing her virtues (as a result of committing good deeds) to that relative. After taking the sufferer to a happier realm, Khun Yay also taught him to meditate and warned that if he abandoned meditation he would return to the suffering realm. Later, Khun Yay delivered the message to the living that the soul no longer suffered and now lived in a better realm. And she said that the soul thanked the living relative for the good wishes. Also, Khun Yay mentioned that the living needed to keep committing good deeds and shared the virtues with his late relative." Luang Por Dhammajayo continued: "I often heard about Khun Yay's experiences using her Dhammakaya to help those who passed away. Yet, sometimes living relatives who asked Khun Yay to help had not known about bad karma committed by those people. They only knew of the good deeds, but after their own scrutiny, they realized that what Khun Yay told them was true. Once someone told Khun Yay of his coming surgery. Khun Yay meditated for a few minutes and said 'Why would you have surgery? Nothing is wrong with you'. He then argued that he had made an appointment with the doctor. Khun Yay said, 'Fine. During the surgery, keep reciting the mantra quietly in your mind: Samma Arahang'. After the surgery, he told Khun Yay the doctor could not find anything wrong. So Khun Yay said 'Good. Now you know what it feels like.' Some stories seemed unbelievable. The things Khun Yay knew often shocked those who just met her. Once a couple came to her and Khun Yay greeted them with: 'you should stop gambling'. The husband was surprised, thinking his wife had told Khun Yay. Yet his wife claimed 'I just met her, the same as you.' Although some people often did not take Khun Yay seriously, they discovered later that what she said was always true. One of Khun Yay's students was a teacher whose husband was very stubborn and did not believe in Hell and Heaven, but he kept reciting a mantra daily, just in case they did exist. One day he came to Khun Yay and said 'Khun Yay, I have a strange story that I want to tell you. And I need your suggestions.' He said that he had slept at a house in countryside, out on the patio. It was a bright night and he could see everything clearly. A dense smoke rose from the floor and materialize into a human form. He could see it clearly and it was as high as a mature palm tree. Then it stepped across the house and suddenly disappeared. He saw it, but did not know what it was. He had gone to many temples, but the answers were not clear, usually containing the word 'might'. Some said 'you imagined it'. While listening, Khun Yay meditated accordingly. At the end of the story, he asked 'Khun Yay, do you know what it was that I saw?' Khun Yay answered 'what you saw was Peta. (A kind of ghost) That Peta is your relative.' He argued 'My relative wouldn't be a Peta.' Khun Yay was silent, but he continued asking, 'Why is he a Peta?' 'Your relative was a deacon. He cheated and stole the temple's properties. After his death, he was born as a Peta.' He claimed 'I don't have any relative who is a deacon. Can you tell me his name?' 'Rasamee,' Khun Yay said. 'I don't have any relative named Rasamee. My relatives have a better name.' He brought his hands together and bowed to show respect to Khun Yay before departure. Many months later, he came back. 'Khun Yay' he said, 'I discovered that I did have a relative named Rasamee. He was a deacon before he died. He had cheated the temple but I still do not believe that Peta exists!' As these stories showed, the trips to Hell and Heaven were usual for Khun Yay. When Luang Pu Wat Paknam was alive, he always trained Khun Yay and other disciples who understood Advanced Dhammakaya Meditation to help others. Relatives of the dead would often come to the temple to cultivate virtues and share them with the souls to help their loved ones move on to a better realm. Luang Pu Wat Paknam would tell his advanced disciples to meditate in order to help those who passed away. I often asked Khun Yay about her trips to Hell and Heaven if they were difficult for her. She said the trip just required her to stop thinking and bring her mind to become one as Dhammakaya within. It required more and more meditation until Dhammakaya encompassed the realms of earth, heaven, and hell. At that point, the mind would become very powerful. Just as you were looking at a 'Makham Pom' (Myrobalan) in your hand, you could see all its sides. Those with Advanced Dhammakaya meditation could also see all things in other realms as clearly as they saw myrobalan in their hands. In saying this, Khun Yay opened her eyes and pointed around the room, explaining to me that we must know our possessions: tables, cabinets, bed, and stairs in our house. We must know their locations. We must see all, so we can answer when people ask what is inside our house. The same is true for the mind. We must know our mind. By herself, Khun Yay had to see clearly all the things inside. She did not want to miss any answer. Because she was somewhat afraid of Luang Pu Wat Paknam when she was his student, Khun Yay trained herself so as not to be called inept by him, as she had heard him did with some of the students. Khun Yay thought that she would not give Luang Pu any reason to call her that. Thus, until Luang Pu Wat Paknam passed away, he never called Khun Yay 'Khi-Tai' (Luang Pu used the word 'Khi –Tai' to call his students who didn't pay attention to improve their meditation and needed Luang Pu to motivate them.) Khun Yay was like a good horse which, seeing other horses being beaten because of wrong-doing, could train itself and not make mistakes. Khun Yay was diligent in her studying and meditation, and as a result of her great effort, Khun Yay became the role model in the advanced meditation practice." Khun Yay was always healthy and active even though her body was lean and fragile. After Khun Yay Thong Sook passed away, however, Khun Yay's health began to deteriorate. In a short period of time, she became seriously ill, and many people gradually stopped coming to see her except for one of her meditation students who brought her to his home to take care of her. Luang Por Dhammajayo visited Khun Yay at the house. Since the house was not accessible by car, Luang Por had to walk for miles to visit her. No matter how difficult it was, he never stopped. His great ambition was to learn Dhammakaya meditation from Khun Yay.
With his cloth soaked with sweat, Luang Por arrived at the house after a long walk. During the visit, instead of asking her how Khun Yay felt, he frankly asked her about his unsolved meditation problems.
Khun Yay, who was bedridden at the time, willingly taught Luang Por while he sat at her bedside. Despite her illness that even forced her to cover her whole body with a blanket, she persisted in teaching Luang Por.
After Khun Yay fully recovered, she returned to Wat Paknam. Luang Por continued his meditation with her everyday. Whenever Khun Yay had guests, Luang Por would either sneak out to take a nap in a hall or count the number of Buddha images around that hall, noticing their styles and skimming through the names of those who donated the images. Luang Por would also walk pass the tombstones located along the wall. Having read the names, he reminded himself that everyone must die in the end, regardless of social or monetary status.
With no doubt, Luang Por believed in what Khun Yay taught him. No matter what she said, he would strictly follow her instructions. His philosophy while studying Dhamma was, "Today, I have learned this much. Tomorrow, I will have to learn more." His meditation led him to find the truth of life.