Guidelines for Joining Retreats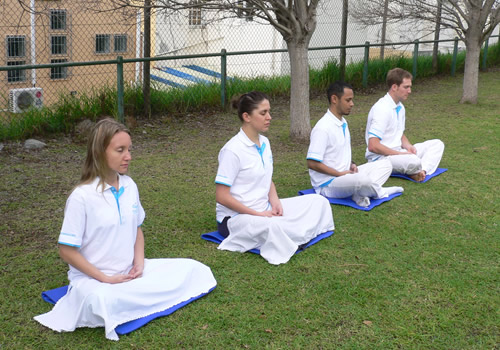 The keys to success in Dhammakaya Meditation Technique are being relaxed, placing your mind at the center of the body, and meditating continuously. But another important factor that will protect you from disturbances and help you to gain the the most benefits from Dhammakaya Meditation Technique is "to clearly understand the guidelines for joining Retreat". These guidelines are not compiled and explained for the benefit of the teachers or the staffs, nor are they negative expression of tradition or blind faith in any organized religion Rather, they are based on the practical experience of thousands of meditators in Dhammakaya Meditation technique from around the world. Therefore, the guidelines can be considered as one of the key foundations for your success in Dhammakaya Meditation Technique.
For your benefit, please read and consider throughout the "Guidelines" very carefully before applying our retreat program. Only those who feel that they can honestly and scrupulously follow the guideline should apply for admission. It would be most unfortunate if, inspite of repeated reminder, a participant does not follow the guideline and has to be asked to leave before the end of the program!!!
Staying For the Whole Period of the Program
A participant will have to stay for the whole period of the program in order to learn the completed basis of Dhammakaya Meditation Technique and to get used to meditate continuously on the single period which is very important for any further practice on Dhammakaya Meditation Technique.
People With Serious Mental Illness
Participants should be healthy both physically and mentally to attend meditation retreat. Even though meditation is good for everyone, it is not a substitute for medical or psychiatric treatments. We do not recommend this meditation technique to people with serious mental illness.
Qualifications
We welcome people from all over the world regardless of to race, creed or religion. However, a keen interest in meditation is very important and these following qualifications are needed:
participants should be between 18-55 years old,
participants could observe the course guidelines and the teacher's guidance throughout the duration of the program.
participants is willingly to adapt themselves to the accommodation and simple living conditions provided.
The Foundation of living Together
Mindfulness Trainings
The meditation community is necessary to live in harmony and to exercise a positive attitude for the benefit of all. Then, we would like to encourage you to practice basic mindfulness trainings. And the mindfulness trainings are:
To refrain from killing any living creatures
When you are thinking of the destruction of life even a mosquito, your negative attitude is arising. Your anger might be increased and will lead bad effect to your meditation experiences.
To refrain from taking things without permission
This encourages us to satisfy what we have. We will be enough and would like to share belongings or helping in communal activities; i.e. washing dishes and preparing meals etc. Sharing your kindness will help to live harmoniously. Generosity makes our mind soft and wishing everyone live in peace is very conducive to meditation.
To refrain from all sexual misconduct, mentally, verbally, or bodily
When we meditate, your mind is supposed to be with you. If you are feeling in sexual ways, your mind will be out from your control. Your mind will wander around or stick with the one you would like to be with and can not settle down to the station of stillness.
To refrain from telling lies
When we live together, we need to live with trust. Nice speech brings the community happiness. The word that encourages or inspires others to find the inner peace is the most beautiful words in the world. Besides, this is the way to practice your mindfulness when you are speaking.
To refrain from the use of intoxicants
There is no doubt that intoxicants lead us to unconsciousness and bad health both physical and mental. These could be the major block for your progress in meditation. And for learning meditation together in group, it is necessary to preserve peace, well-being and joy.
Alcohol and Tobacco
As we ask our participants to observe the basic mindfulness, please do not bring alcohol drinking and cigarettes to the retreat center. For those who are addicted to alcohol and tobacco, we would like to ask for your cooperation not to drink or smoke during the retreat program. Thank you for your understanding.
Separation of Men and Women
A participant joins the retreat with his/her determination to learn meditation. There will be a big effect to your meditation if you cannot control your feeling or emotion. Sexual relations cause unmindful actions and those are not supposed to do during the meditation retreat. The separation of men and women helps us to move in the direction of calmness and self-realization.
Accommodation
The lodgings are simple with all the basics provided. Shared rooms (2-3 people) are arranged. Men and women have separate quarters. There will be bedding and linens provided. Toilets and hot shower facilities are also provided in a separate area. However, for your comfort, you may wish to bring your own sleeping bag, sheet, towel, and pillow.
Food
All meals are non-vegetarian. Meals are prepared in a balanced fashion and suitable for meditation. For participants who have special dietary or medical needs because of illness, please inform us in advance (at least 10 calendar days before arrival). We do not have cooking facilities at the center. Therefore, they are not permitted to cook. We serve light dinner; for instance, sandwich or fruits together with tea or coffee, in the afternoon.
Outside Contacts
For the most valuable period of your time in the retreat, please stay within the boundaries throughout the meditation program. Only the emergency case which has been considered by the teaching monk is exceptional.
Communication Devices
It is very difficult to leave the busy world to search for the true happiness. Your essential moment should not be interrupted. Communication devices such as an Internet accessible computer and mobile phone are not recommended to bring to the meditation retreat.
Books ,Magazines or Musics
Books, magazines or musics that will create any distraction to you and others are not allowed in the retreat center. Those things will take your attention away from the center of your body.
Clothing and Laundry
For your comfort when sitting meditation, dress should be loose, simple, and comfortable. Please sleeveless shirts and short, see-through, or revealing clothing should not be worn in the retreat center. Shirts should be light color. At the retreat center, no washing machines and dryers are available, so participants should bring sufficient clothing. Small items can be hand-washed.
Voice Recorders
Voice recorder cannot be used during the meditation session.
Preparation For the Retreats
What to Bring
Passport
Personal items
Towels
Personal medication
Warm clothing and footwear for cold weather
A flashlight with batteries
Loose, simple, and comfortable clothing
Mosquito repellent
Please bring any particular personal items for your individual use because trips downtown are not encouraged.
What
NOT to Bring
Illegal drugs
Alcohol and tobacco
Candles, incense, or lighters
Pets
Books or magazines that will create any distraction to you and others
Communication devices such as an Internet accessible computer and mobile phone.
Valuables and jewelry such as rings and necklaces
Knives, weapons or other dangerous items
Program Finances
The retreats are conducted by The Middle Way team which is under the Dhammakaya Foundation, a non-profit organization. This organization established to disseminate inner peace through meditation and to create world peace through inner peace. The source of fund comes solely from the donations of people who have purity of purpose and realize to share their inner happiness and good wish to others. The fund we get from the participant for the program is just enough to cover the cost for basic facilities to arrange the meditation retreat. There are no wealthy foundations or individuals sponsoring us. Neither the teacher nor staffs receive any kind of payment for their service. Thus, the spread of Dhammakaya Meditation is carried out with purity of purpose and free from any commercialism.
Conclusion
All the things that we have explained are for your maximum benefits from Dhammakaya Meditation. Once you decide to join the retreats, please keep in mind that we are happy to serve you on this path of self-purification to real peace and happiness in life. We will live together with peace and compassion as we are in one family.
We respect each other and do not disturb others in any actions. Best results of meditation suit the one who work diligently!