World Meditation Day 2551 B.E.

All in One : World Meditation Day 3rd August, 2008
This first Sunday of the month, 2nd August, 2008, is the first Sunday Ceremony which taken monthly in Dhammakaya Temple. This is one of the special ceremonies that arranged monthly in this venue of peace. But this time, it can be one of the most auspicious days on the calendar. Besides, the Ceremony of Offering the Sustenance to the Lord Buddha that arranged as monthly usual, it also coincides with other big ceremonies .The World Meditation Day which appointed on 6th August every year by WFBY (World Fellowship Buddhist Youth) is scheduled to be commemorated through the meditation session on this Sunday's ceremony as well. The meditation is the common merit activities that all Buddhists know and practise as a way to achieve inner happiness. The morning session is arranged for this ceremony and also to be a class of the new comers who really want to learn meditation as well.

There are also set to happen more of ceremony. Monks from over 3000 temples across Thailand will join the event to receive requisite offerings from the congregation. Also, the Ceremony of Relief Offering to the monks from 266 temples of the 4 southern boarder provinces which is usually organized monthly within the unrest region is included in this special day. Due to the gathering of a large numbers of monks, it is a delight opportunity for Buddhist people to participate in the most popular merit making moment to do the meal offering to the huge ecclesiastical community at lunch time. All these ensure that Buddhism will perpetuate in the long future under the strong support of the lay people. The looking-forwards event by all Pali Studies graduates is the Annual Congratulation Ceremony held in the afternoon. The rewarding for the noble doctorate graduates in Pali Language is arranged in this session. Moreover, scholarships are also rewarded to the outstanding Pali Schools with the distinguish record of graduates in the previous academic year. This ceremony is arranged with the purpose to uphold Pali Studies to be popular among Buddhist community both monks and laities because the original teachings of the Lord Buddha are maintained in the Pali language. This year, the twenty five graduated monks and one Buddhist nun have received kindness from the most venerable Pravisuthivonsajarn, The Monastic Dean of Region 16 and chief monk of Senior Monks Association, to be a president of ceremony.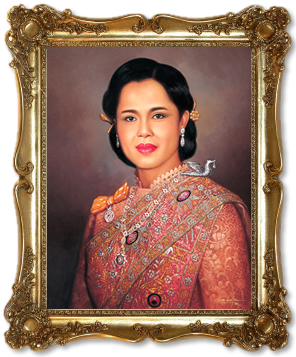 H.M. Queen Sirikit
Let us rejoice these ceremonies which have passed on the entire date. The joyful moment of world meditation day will be in our heart and please keep in mind what merit we have done through the whole day. Rejoice in your merit.




| | |
| --- | --- |
| 09.30 am. | Morning Chanting Meditation Session on "World Meditation Day" The Ceremony of Offering the Sustenance to the Lord Buddha |
| 10.45 am. | The Ceremony of Lunch Offering |
| 11.00 am. | Lunch break |
| 01.30 am. | The Annual Congratulation Ceremony to honor the Pali Graduates The Annual Ceremony of Scholarships Rewarding to the Outstanding Pali Institutes |
| 03.40 pm | The Ceremony of Requisite Offering to the ecclesiastical congregation The Ceremony of Relief Offering to 266 temples from the Southern unrest provinces |
| | *** Ceremonial Session Ends *** |
| 04.55 pm. | The session of donation Brief sermon by Phra Rajbhavanavisuth Blessing Time |
| 05.45 pm. | End |
Photo Gallery