World Meditation Day 2548 B.E.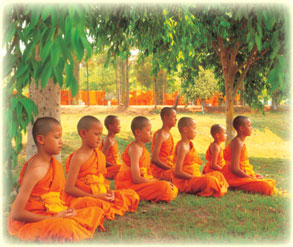 World Meditation Day 6 August 2548
We can say that the severest disaster of mankind is war which is initiated by mankind. Throughout the very long world history wars never disappear from our world, so people have been trying to search for peace since so long. On August 6 th, 1945 , an atomic bomb, the most devastative weapon of the world history, was released to bombard Hiroshima of Japan before the end of the Second World War. The mass destruction at that time always makes mankind to realize the severe evil effects of wars. Therefore, there were attempts to establish such a central and international organization to keep the world peace for every human being of all nations, the United Nations. According to the 1988 Conference of World Fellowship of Buddhist Youth Organization (WFBY) held in Los Angeles of USA, the attendees realized the importance of meditation. MEDITATION is effective and universal method, not only in Buddhism but also in many religions, to make human minds pure and see things correctly so that they can approach the appropriate ways to make world peace. As a result, WFBY set the 6 th of August of every year as the World Meditation Day in order to gather Buddhists and mankind all over the world to meditate, develop mindfulness of death, and help altogether create the real and sustainable of world peace.