Earth Day 2012 at Wat Phra Dhamamakaya
April 22
nd
, 2012 (2555 B.E.) marked the 15
th
year that the Dhammakaya Foundation and Wat Phra Dhamamakaya have organized events to acknowledge Earth Day. This year's event combined the concept of
Dhamma Helps Safeguard the World
along with the World Fellowship of Buddhist Youth's theme of '
Clean the World, Clean the Mind
,' under the confidence that clean and pure minds will protect this world. Thus, this was the day the four Buddhist communities – Buddhist monks, novice monks, Upasaka and Upasika – united as one to follow the Lord Buddha's teaching on purifying one's body, speech and mind through the practice of generosity, moral discipline, and meditation.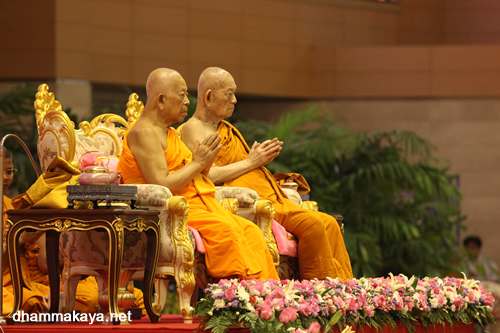 (fron left) H.H. Somdet Phra Maharatchamongkhalachan, H.H. Somdet Phra Mahaveerawong
The auspicious day commenced with the morning chanting, the Request for the Five Precepts, and the practice of meditation led by the Most Venerable Phrathepyanmahamuni (Luang Por Dhammachayo), the abbot of Wat Phra Dhammakaya. This was followed by the presentation of scholarships to teachers who have been offering their expertise to the four provinces in the Southern region of Thailand. These scholarships have been awarded for the fourth consecutive year. The morning program concluded with the ceremony to offer Sanghadana, or sustenance to the congregation of monks. The afternoon began with the practice of meditation to purify the world, then a blessing from the monastic community and the spreading of loving-kindness to instill happiness in the world. This was followed by the ceremony to offer alms to venerable monks from over 20,000 temples across Thailand and the four Buddhist communities from the 286 temples from the four Southern provinces. This was the seventh consecutive year that this ceremony has been held. This ceremony had the great honor of being presided by H.H. Somdet Phra Maharatchamongkhalachan – acting Supreme Patriarch of the Thai Sangha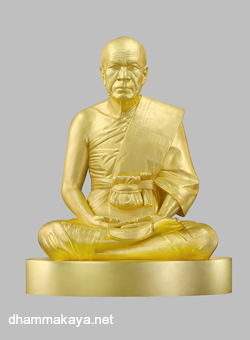 Supreme Council, Ecclesiastical Head for the Northern Sector, the Rector of the Pali Examinations (Sanam Luang), and abbot of Wat Paknam Bhasicharoen; and H.H. Somdet Phra Mahaveerawong – member of the Thai Sangha Supreme Council, advisor to the Ecclesiastical Head for Region 11, and abbot of Wat Sampantawongsaram. After which, the Most Venerable Phrapromvetee – member of the Thai Sangha Supreme Council and abbot of Wat Trimittra Witthayaram – led more than 100,000 senior monks and monks, both in Thailand and abroad, in chanting the 'Dhammacakkappavattana Sutta' to bless the world with peace and safety. The congregation of the monastic order all over Thailand and the four Buddhist communities from around the world may be an event that occurs infrequently; it was, however, an inspiring sight to behold seeing everyone unite together as one to practice meditation in order to instill true happiness in this world. The evening culminated with the ceremony to cast the statue of the Great Master Phramongkolthepmuni (Sodh Candasaro), the discoverer of the Dhammakaya Meditation and the Vanquisher of Mara, in solid gold. This gold statue will be enshrined in the Memorial Hall of Phramongkolthepmuni at Wat Phra Dhammakaya in Pathumtani, so all Buddhists and his loyal devotees can come honor and pay respect to him. His gold statue also will serve to inspire everyone to practice his invaluable teachings in order to attain inner peace.
Earth Day at Wat Phra Dhamamakaya
[nggallery id=36]