The 124th birth anniversary of the great master 10th October, 2008

The 124th birth anniversary of the great master Phramongkolthepmuni (Sodh Candasaro)
10th October, 2008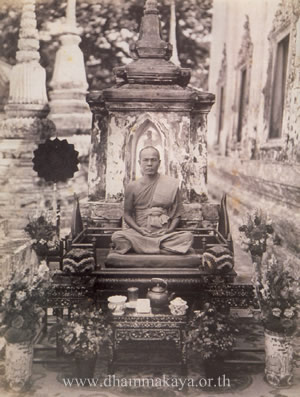 ....................................................................................................
Phramongkolthepmuni (Sodh Candasaro) The re-discoverer of Vijja Dhammakaya
The 124th birth anniversary of the great master Pramongkolthepmuni (Sodh Candasaro), the former abbot of Paknam temple and the re-discoverer of Vijja Dhammakaya, the genuine teaching of the Lord Buddha which had been lost for more than 2,000 years, is coming in a few days. If we view his birth only as a kind of natural birth of humans, we will find nothing special. But, if we view his birth as the arrival of a significant and extraordinary person who sacrificed his life to re-discover the knowledge of the utmost purity to emancipate all beings from being enslaved by evil, we will find that his birthday was a special and holy day. No matter how knowledgeable in Dhamma (the Lord Buddha's teachings) we are, whether we be ascetics or laypeople, but we often find it is hard to apply the knowledge in terms of practice. This is because expressions and statements written in the Buddhist Scriptures are deep and profound. If we attempt to interpret the meanings on our own with our restricted wisdom and perception, we are prone to misinterpret and end up practicing in a way that was not intended. According to his devotion, Phramongkolthepmuni has become the Great Master to whom we owe a lot for his benevolent acts. He should be respected and worshipped by all humans and celestial beings. His virtues must be proclaimed until they are widely disseminated throughout the world. Therefore, on the upcoming Friday 10th of October 2008, which will mark Phramongkolthepmuni's 124th birth anniversary, his followers will show gratitude and venerate his benevolence by casting his statue which will be 1.5 times his actual size in pure solid gold. The statue will be placed inside The Memorial Hall of Phramongkolthepmuni (Sodh Candasaro) as evidence of the Dhammakaya re-discoverer's existence. Gold is a pure and valuable element which represents wealth; it is like the Great Venerable teacher, Phramonkolthepmuni (Sodh Candasaro), the master who rediscovered Dhamakaya Meditation. Dhamakaya Meditation is the pure and profound knowledge of the Lord Buddha which was lost 500 years after the lord Buddha attained Nirvana. This discovery was greater than any other discovery, knowledge or invention on this earth. He is pure and full of infinite virtues and excellent characteristics, worthy of being worshipped by being cast in gold weighing one metric ton. His Golden statue would inspire his followers and people of the world including new generations to come and have a chance to pay homage to him and learn about his magnificent biography and teaching. Having learnt about him, these people will be motivated to do good deeds, meditate and become "Kalayanamitra" (Virtuous friends) to each other, making the world full of peace and happiness. Everlasting world peace can occur through inner peace.
The First Golden Statue of Phramongkolthepmuni (Sodh Candasaro)
The Benefits of Casting The Most Venerable Phramongkolthepmuni (Sodh Candasaro Bhikkhu) in Solid Gold: 1. Being born as a person with the Right Views who always associates with Kalayanamitras and Wise people as a result of worshipping people who are worthy of being worshipped. 2. Being born in a proper living place – within Buddhism and Vijja Dhammakaya's influence in every lifetime. 3. Being born with great spiritual uplift and strength, able to protect ourselves from any harm or obstacle. 4. Having great wisdom as a result of showing gratitude. 5. Having an elevated status, being loved and respected by others. 6. Having abundant wealth from practicing generosity. 7. Having a spiritual connection with The Great Venerable Master, and being able to follow him in the path of pursuing perfection and accruing merit in every lifetime. 8. Having a firm plan or blueprint in entering Dhammakaya and studying Vijja Dhammakaya in every lifetime. Etc.
The Ceremony for Casting The Golden Image of The Great Master Phramongkolthepmuni (Sodh Candasaro), The Discoverer of Dhammakaya Meditation Friday, 10th October 2008 at Dhammakaya Meditation Hall
| | |
| --- | --- |
| Morning Session: | |
| 08:30 AM. | Morning Chanting |
| 09:30 AM. | Paying Homage to the Triple Gem / Meditation Practice |
| 10:45 AM. | Meal Offering to the Sangha |
| 11.00 AM. | Lunch Break |
| Afternoon Session: | |
| 12.15 AM. | An interview with special guests |
| 01.50 PM. | Chanting to praise The Great Master Phramongkolthepmuni |
| 02.30 PM. | The Ceremony of Casting the Golden Statue of Pramongkolthepmuni (Sodh Candasaro) |
| Night Session: | |
| 7.15 PM. | Inner Dream Kindergarten Program at the Master Nun's Congregation Hall |
Each participant receives a Buddha amulet as a memorabilia from the monks at gate 1 and gate 5 (for participants who put on completely white clothes and joined the ceremony at the Dhammakaya Meditation Hall only) Note: On Friday, 1010 October 2008, the Memorial Hall of Phramongkolthepmuni will be open for paying homage from 16.30 - 19.00 --------------- From today until 9th October 2008, the Memorial Hall of Phramongkolthepmuni will be open daily during the following periods of time: 09.00 - 10.30 am 12.30 - 14.30 pm 14.30 - 16.30 pm 16.30 - 19.00 pm For Sunday, the memorial hall will be open from 11.00 am - 12.30 pm only. International visitors can attend the ceremony by borrowing a translation device from our staff at column C18 of the Dhammakaya Meditation Hall. Translation is available in Chinese, English, and Indonesian.
Photo Gallery
The Speech from Dr. Michel Nobel

The Ceremony of Casting the Golden Statue of Pramongkolthepmuni (Sodh Candasaro)