Dhammachai Dhutanga, to present a gold statue of Phramongkolthepmuni
The one-ton solid gold statute of Phramonkolthepmuni
, one and a half times the size of Luang Pu's real person which was created with the proceeds from donors and it was inaugurated on Magha Puja Day, February 25, 1994, at the Dhammakaya Temple.
Translated by Surin Chaturapit
DHAMMACHAI DHUTANGA
To celebrate the 2,600th anniversary of the Lord Buddha's enlightenment, to build great merit for the land, and to uplift the spirit of the people.
The Office of Prime Minister of Thailand, organized alms offering events in six various famous places in Bangkok, which are Sapanmai, Kaset - Rajyotin- Ladprao, Sapankwai, Pratunam -Rajprasong- Patumwan, Yaowaraj and Wongwienyai. These events were held during March 10 to March 25 this year and altogether joined by 120,400 monks from all over Thailand. All these events have been very well received by the general public and well supported by both public and private sectors.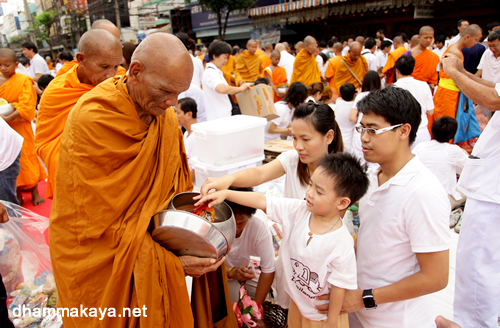 Prior to these alms offering events, the Dhammachai Dhutanga Pilgrimage of 381km walked by 1,127 monks was organized through six provinces of Thailand, which were devastated by one of the severest flood-disaster last October 2011.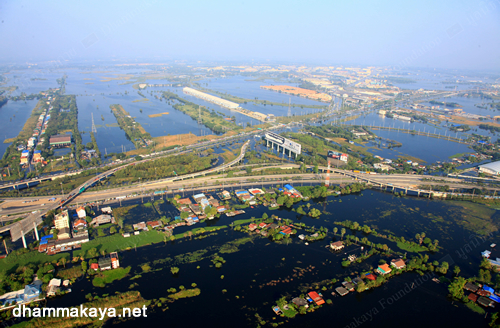 The recent floods that devastated many parts of Thailand had brought insurmountable damage to the Thai economy and to the livelihood of its people . The worst casualties were suffered by six provinces, namely, Ayudhya, Supanburi, Nakornpathom, Patumthani, Nondaburi, and Bangkok. During January 2 to January 25, 2012, Thailand's monastic community, Religious, Art and Cultural Affairs committee, House of Representatives, International Buddhist Council, and another twenty-four member organizations collaborated to organize the Dhammachai Dhutanga Pilgrimage for these six provinces.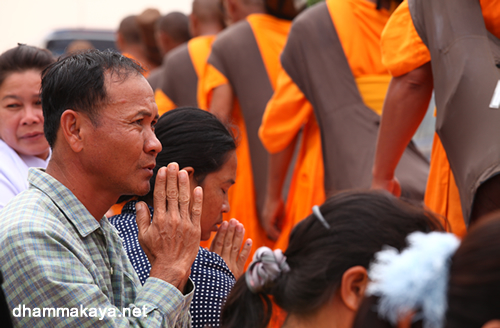 Through this Event, the general public was given the opportunity to pay respect to the pilgrim monks and to practice meditation. It was a way to uplift the spirit of the Thai people, provide spiritual support to those who suffered during the disasters, and to regain hope for an auspicious future. It was also a way to rejuvenate good moral ethics with the virtues of the Lord Buddha and to bring peace and prosperity to the Thai society.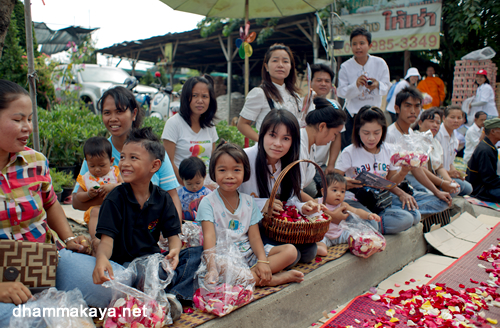 Due to both events of 120,400 monks alms offering and Dhammachai Dhutanga Pilgrimage in six provineces. Through the collaboration and support of the pilgrimage organization committee, Office of the Prime Minister, City of Bangkok, National Buddhist Organization, Office of the National Police, Young Buddhists World Organization, United Thai Union, along with many private and public organizations, and with the Buddhist community in general, another organized Dhammachai Dhutanga Pilgrimage which will led by the golden statue of Phramongkolthepmuni (Luang Pu Wat Paknam, Sodh Chandasaro) throughout Bangkok during April 2 to April 6, 2012.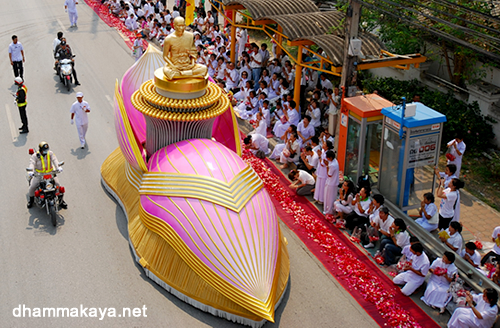 This event will take place during The walk start from the Dhammakaya Temple in Patumthani to final destination at Wat Paknam Bhasicharoen. The routes for this pilgrimage will be the same as those used in the six previous events of alms offering which are Paholyotin, Don Muang, Sapanmai, Bangkhen, Chaisamornrapoom, Pratunam, Rajprasong, Bantadtong, Yaowaraj, Phrapokklao Bridge, Wongwienyai, Taladploo, to Wat Paknam Bhasicharoen.
The one-ton solid gold statute of Phramonkolthepmuni
, one and a half times the size of Luang Pu's real person which was created with the proceeds from donors and it was inaugurated on Magha Puja Day, February 25, 1994, at the Dhammakaya Temple.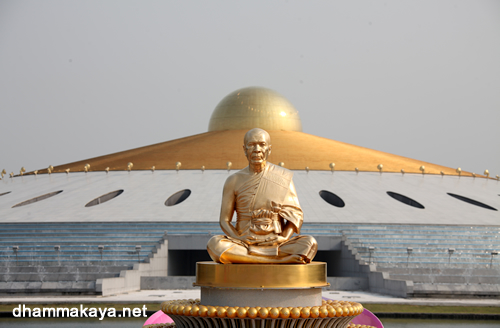 The statue is currently located at Phramonkolthepmuni Vihara, Dhammakaya Temple, Patumthani. It will soon to be moved to Phramahacetiya MahaRajmongkol, Wat Paknam Bhasicharoen, the temple residence of Luang Pu Wat Paknam from where he taught the Dhammakaya meditation technique to the world until his last breath.
Wat Paknam Bhasicharoen is a temple which was built during the Ayudhya Era. The Temple contains many ancient works of art and architectural structures, symbolizing the art and culture of Ayudhya, Thailand's former capital. According to historical records, there had been twenty two pagodas hidden within the wall of the chapel, and scores of pagodas were built around the main Vihara.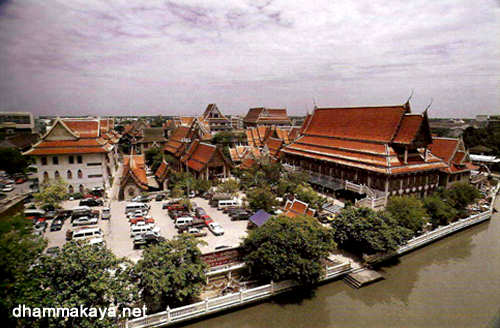 His Most Venerable Phrawanrut (Pun Punnasiri) of Jetuponwimonmanklaram Temple, assumed the position of Abbot of Wat Paknam for six years after Luang Pu Sodh's passing on February 3, 1959. He noted, "When Wat Paknam was undergoing renovation, the craftsmen assigned to the project did not have the necessary knowledge or capabilities to restore the ancient buildings. Many pagodas were in ruin, but the temple lacked the necessary funds to keep up with maintenance. As a result, these pagodas ended up being demolished." His Most Venerable, who was a preservationist himself, was saddened by this loss.
On the 72nd anniversary of Her Majesty the Queen's birthday, His Most Venerable Phramaharatchmanklajarn (Chuang Worapunyo), the current Abbot of Wat Paknam (who is also a committee member of Thailand's Sangha Order), announced his intention to build a big pagoda in honor of the Queen.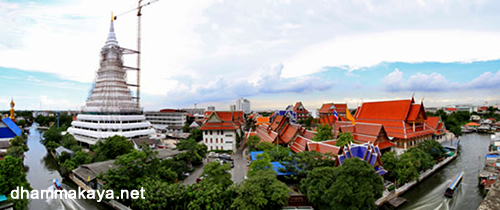 The pagoda was to be 80 meters high, 50 meters wide, and 50 meters long. His Most Venerable Phramaharatchmanklajarn presided over the headstone-placing ceremony which was held at 6:09 a.m. on September 27, 2004. The style of the pagoda follows the design of the pagoda of Lokemolee Temple, Sripoom Precinct, Muang District, Chiengmai. The design was a fusion of Ratanakosin and Lanna motifs. It is a five-story high structure with a square base. The tip of the pagoda is plated with pure gold, weighing 7,185.55 Baht (please convert to English measuring system). A gold plate, 9.9 cm x 4.9 meters in dimension, was inscribed with the Pali words: "Sati Mattayayata Jata"; which means "Mindfulness gives rise to economics of sufficiency", and "Punja Sila Surakakitang Chata", which means "Five Precepts well observed, brings peace to the world". This pagoda was completed in 2011 and will be inaugurated in 2012.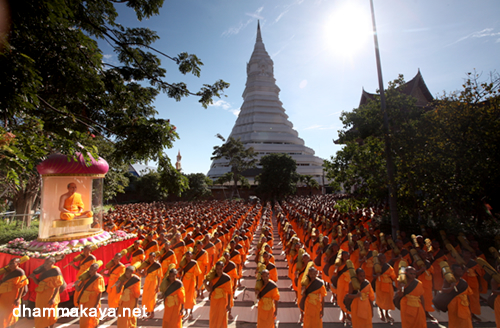 This event is meant to uplift the spirit of the people and to bring merit to the land. It is a way to promote moral ethics and bring an auspicious future to the people living in the areas affected by natural disasters.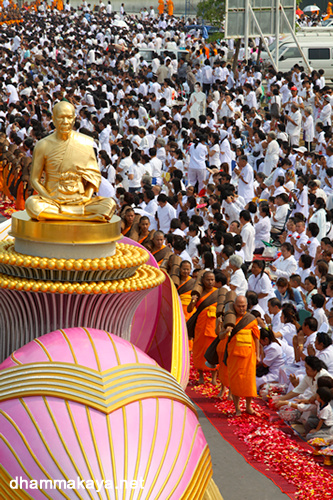 It is also a means to revive the Buddhist culture and to help Thailand live up to its reputation as the world's center for Buddhism. Families will benefit from this event because it gives them an opportunity to perform merits together.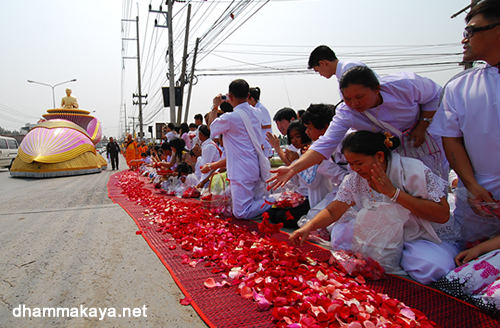 We invite you to participate in this meritorious event by sprinkling rose petals on the path of the pilgrim monks and to welcome the golden statute of Luangpu Wat Paknam. This is a meritorious activity that will bring an auspicious future for your life.
Dhutanga Itinerary, April 2-6, 2012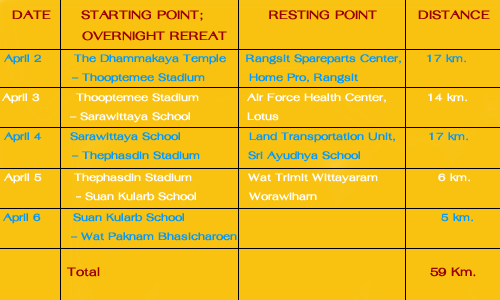 Itinerary map
View Larger Map
A : Wat Phra Dhammakaya B : Thupatemi Royal Thai Air Force Sports Stadium C: Sarawitthaya School D : Thephasadin Stadium E : Suan Kularb School F : Wat Paknam The Dhutanga austere pilgrimage route will start on April 2, 2012 from
Wat Phra Dhammakaya Temple to Dhupatemiya Stadium
. The journey will go through Khlong Luang Rd. before turning left to Phaholyothin Rd. heading for Future Park Rangsit and Zeer Rangsit before arriving at Dhupatemiya Stadium. The monks will rest at Rangsit Spare Parts Market and Home Pro Dhanyaburi. The total distance for the first day is 17.1 Kilometer.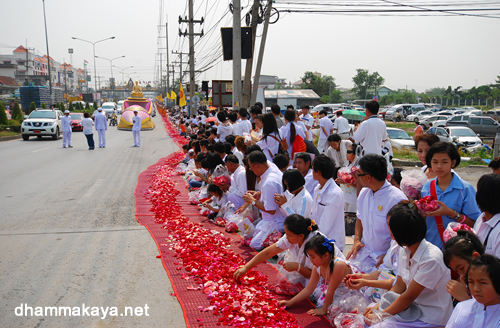 On Tuesday 3rd of April, the monks will start their austere pilgrimage from Dhupatemiya Stadium to Sarawitthaya School in Chatuchak district. Their route will pass through Phraholyothin Rd., Air Force Academy, Bang Khen Roundabout, 11th Infantry Regiment before arriving at the destination with the total distance of 12.8 Kilometers. They will make brief stops at Royal Thai Air Force Health Center and Lotus Supercenter Laksi.
On Wednesday 4th
of April, the route will start from Sarawitthaya School to Thephasadin Stadium by passing on Phaholyothin Rd. through Central Plaza Ladprao, Chatuchak, Saphan Kwai, Victory Monument, Phayathai, Rajprarop, Rajdamri, Centralworld, Rama 1 Rd., Siam Paragon, MBK Center with the total distance of 16 Kilometers. The rest stop will be at Land Transport Department and Sri Ayutthaya School.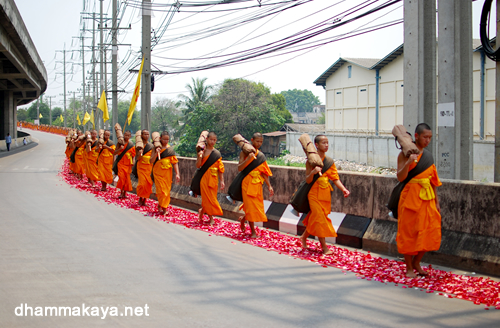 On Thursday 5th of April, the route will start from Thephasadin Stadium to Suankularb Wittayalai School passing through Rama 1 Rd., Bantadthong Rd., Rama 4 Rd., Chinese-Thai Friendship Rd., Wat Trimitra Temple on Yaowarat Rd., Chakrawat Rd., Mahachai Rd., Charoen Krung Rd., Tripetch Rd., with the total distance of 5.3 Kilometers. The rest stop will be at Wat Trimitra Temple.
On Friday 6th of April,
the route will start from Suankularb Wittayalai School to Wat Paknam Temple passing Tripetch Rd., Prachatipok Rd., Wongwian Lek-Wong Wian Yai Rd., Intrapitak Rd., Tred Thai., Talad Plu, Rajmongkolprasat Rd. before arriving the final destination at Wat Pak Nam Temple with the total distance of 6.4 Kilometers.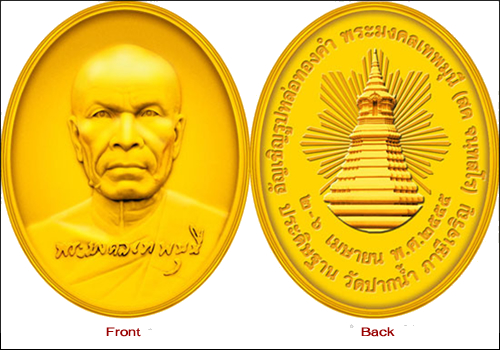 **************************************************
Alms offering events in six various famous places in Bangkok
Alms offering events in six various famous places in Bangkok, which are Sapanmai, Kaset - Rajyotin- Ladprao, Sapankwai, Pratunam -Rajprasong- Patumwan, Yaowaraj and Wongwienyai during March 10-25,2012. Altogether joined by 120,400 monks from all over Thailand [nggallery id=34]