Let's Celebrate! The Turn of the Year Through the Peaceful Retreat And Enshrine the "CRYSTAL WHEEL"

Let's Celebrate! The Turn of the Year Through the Peaceful Retreat And Enshrine the "CRYSTAL WHEEL"
28th December, 2007 - 1st January, 2008 Wat Phra Dhammakaya, Thailand
Apart from the heart-bound gathering, everyone would smell the first delightful breath upon the daybreak of the 1st January, in really enchanting atmosphere. And let this special once-a-year occurrence impress you for good. Let every recall of the moment remind us to do more good deeds every passing day throughout the upcoming year and forever.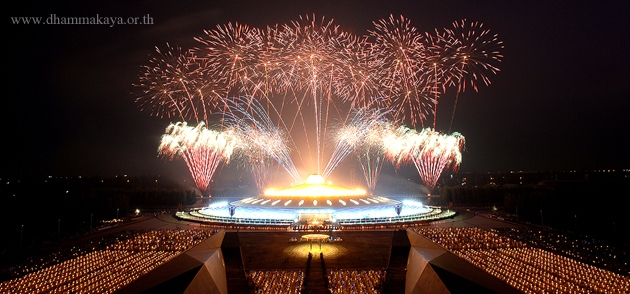 It had become customary at Dhammakaya Temple to celebrate this season's greetings with the annual New Year meditation retreat. The temple invites Buddhists worldwide to join this mass meditation retreat program, to experience a simple lifestyle and to value the true Buddhist way of life. Besides, participants will get a chance to welcome the coming year while making merits for their own selves and enjoying together with fellow-meditators at the festivities.

Besides, participants will gain the perfect chance to observe the eight precepts more formally. At the crack of dawn on the auspicious day of the 1st of January, we will have another great opportunity to join the mass alms offering ceremony to welcome the bliss of the New Year.
Yet, the highlight of the New Year celebration is scheduled in the late afternoon of 31st December when everybody will gather in the front ground of Phramonkolthepmuni Vihara to enshrine the second Crystal Wheel. The Crystal Wheel is the monumental piece of architecture to grace the surroundings of the Maha Vihara and the symbol of the pursuit of perfection to achieve the ultimate goal in the path of Dhamma.

The Crystal Wheel is the foremost endowed belonging out of seven - unique of the Universal Monarch. The details of the Universal Monarch who rules in justice over the world had been recorded in the Tipitaka - the Cakkavatti Sutta.

It is really the once-in-a-lifetime event to witness and take part. On the New Year's Eve, the first replica of the Crystal Wheel will make its debut at dusk. Come and see with your naked eyes how elegant and detailed the Wheel looks. Just make sure you could come for the sake of your own peace. Refresh your mind and top up your merits in this merriment and merit-making all at the same time. Let's celebrate! Let's Meditate!

Schedule
| | |
| --- | --- |
| 28 December | |
| 03.30 pm. | (onwards) Check-in |
| 07.00 pm. | Attending the Dhamma Night School |
| 10.30 pm. | Bedtime |
| 29 December | |
| 04.30 am. | Wake up |
| 05.00 am. | Morning chanting |
| 07.00 am. | Breakfast |
| 09.30 am. | Morning meditation |
| 10.45 am. | Lunch offering to monks |
| 11.00 am. | Lunch break |
| 01.30 pm. | Afternoon meditation |
| 02.30 pm. | Cleaning time |
| 03.00 pm. | (onwards) Check-in & Break |
| 07.00 pm. | Attending the Dhamma Night School |
| 09.30 pm. | Evening chanting |
| 10.30 น. | Bedtime |
| 30 December | |
| 04.30 am. | Wake up |
| 05.00 am. | Morning chanting |
| 07.00 am. | Breakfast |
| 09.30 am. | Morning meditation |
| 10.45 am. | Lunch offering to monks |
| 11.00 am. | Lunch break |
| 01.30 pm. | Afternoon meditation |
| 02.30 pm. | Donation time, Sermon time & Blessings time |
| 04.00 pm. | Break |
| 07.00 pm. | Attending the Dhamma Night School, Evening chanting |
| 10.30 น. | Bedtime |
| 31 December | |
| 04.30 am. | Wake up |
| 05.00 am. | Morning chanting |
| 07.00 am. | Breakfast |
| 09.30 am. | Morning meditation |
| 10.45 am. | Lunch offering to monks |
| 11.00 am. | Lunch break |
| 01.30 pm. | Afternoon meditation |
| 03.00 pm. | Break |
| 05.00 pm. | The Second Crystal Wheel Enshrining Ceremony |
| 06.30 pm. | Break |
| 07.00 pm. | Attending the Dhamma Night School, Evening chanting |
| 11.00 pm. | Bedtime |
Photo Gallery